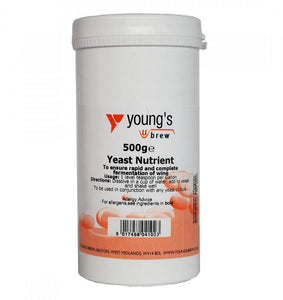 Young's Yeast Nutrient (500g).
A 500g tub of Young's Yeast Nutrient.

What is Yeast Nutrient used for?
Yeast Nutrient is used in wine making to ensure rapid and complete fermentation. To be used in conjuction with the yeast culture of your choice.
Dosage: 1 level teaspoon per gallon. Dissolve in a cup of water, add to the vessel and shake well.
Store in a cool, dry place.
Weight: approximately 500g.
Fast shipping on everything.
Quick reaction
Excellent fermentation in 24 hours and constant.
Wine making gear
Auality product at the right price and delivered quickly.