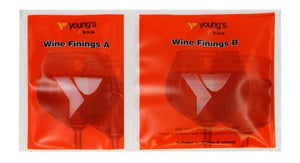 Wine Finings by Young's.
Used to clear wines by a two-step process.
Finings act by neutralising the electrical charges on the haze forming particles so that they fall out of the solution.
This 2 pack is sufficient for 23 Litres / 5 Gallons.
Perfect for clearing homemade wine and also mead.
Wine Making
Last summer I used a couple of small kits for making blackcurrant wine.So this year I thought I'd be more adventurous. I knew the ingredients I needed so I looked on the internet and Almost off the Grid came up.So I emailed them and asked for the equivalent ingredients .Bev returned my message the next morning and was most helpful so I purchased from them. My order arrived quickly . As yet I haven't has chance to use the ingredients .