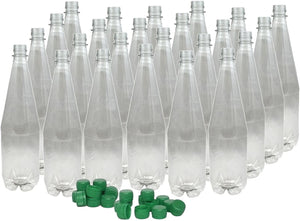 A case of 24 one litre clear PET plastic bottles, with 24 caps.
Each 1 litre bottle is designed to withstand pressure. We sell loads of these for making 1 litre bottles of Elderflower Champagne. PET bottles are ideal for this because, as the pressure inside the bottle builds, the plastic becomes tight. You can then 'burp' each bottle occasionally to avoid explosions when you open them.
24 one litre bottles in the box, along with 24 plastic screw caps.
Reusable.
1ltr plastic bottles
A very good product, Will definitely order more when We need some
Great speedy service with a lovely smile
Great service and great product