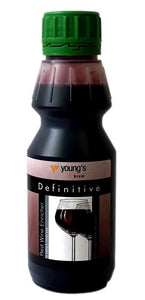 A 200ml bottle of Young's Definitive Red Grape Juice Concentrate / Enricher.
This bottle contains red grape juice, designed to be added to country wines prior to fermentation.
Definitive Grape Juice is used as an additive / wine must improver to enhance the flavour and body of your finished wine.
Great Product and Service
Perfect for giving your country wine that certain je ne sais quoi.
Forgot to order it with my other items and they despatched it the next day, impressive service.