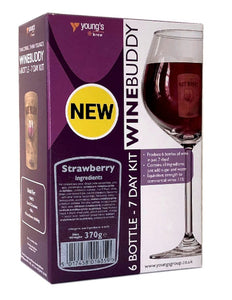 WineBuddy Strawberry Fruit Wine Kit by Young's.
WineBuddy Strawberry Fruit Wine Kit produces a lovely wine in just 7 days! Strawberry rose in colour with each mouthful emulating a punnet of your own freshly picked strawberries, this wine is full of flavour. A real favourite, to be enjoyed all year round.
These ever-popular Winebuddy Wine Kits produce 6x 700ml bottles of wine. They are so easy to make and are a great introduction to wine making, even for the complete beginner. Winebuddy Wine Kits are exceptional value.
This quality fruit wine kit refill requires 900g of sugar plus water adding. It will be ready to drink in a week.

The kit includes:


1 bottle of Fruit Concentrate, from which the wine will be made


Yeast/Nutrient to start the fermentation process


Stabiliser to stop the fermentation process


F-pack, also known as a wine finishing pack, to enhance the varietal characteristics of the wine


Finings, to clear the wine


Full instructions.


Please note that wine making equipment, sugar and bottles are not included.
When made, your wine will be the 11% ABV, which is equivalent to commercial strength wine.
Your finished wine will accompany most meals and is perfect to close the evening. Or it can simply be enjoyed as an easy drinking wine.
It will be ideal for BBQs, special occasions, relaxed home drinking or giving as gifts.
Need sugar and equipment? You'll find a Beer Making Starter Kit here and Brewing Sugar here.
Fast delivery.