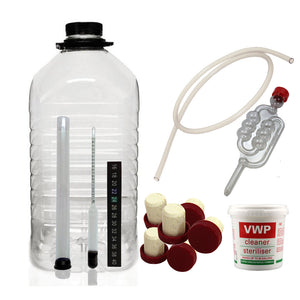 Almost Off Grid Wine Kit Making Starter Kit.
This Starter Kit contains everything you need to get going making your first 6 bottle wine kit (not included). 

Wine Making Starter Kit Contents
1 gallon (5 litre/6 bottle) PET demijohn 
1 screw cap for the demijohn with a bored hole, fitted with a pvc grommet to keep an airlock in place
1 Bubbler Airlock with cap
1 100g tub of VWP cleaner/steriliser
1 hydrometer


1 length of syphon tubing

6 plastic topped corks for your bottles.
If you want to make your first 6 bottle wine kit and have no equipment, these are the basics you need to get started.
Please note: no bottles are included, and you will need to buy your 6 bottle wine kit separately.