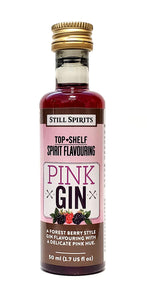 Still Spirits Top Shelf Pink Gin Flavouring

Makes a forest berry style gin flavouring with a delicate pink hue, the perfect summer drink.

Mixing Instructions

Shake well and add contents to 2.25 L (76 US fl oz) of 40% ABV distilled spirit or vodka. Makes three 750 ml (25 US fl oz) bottles.
Top Shelf Liqueurs is a range of flavourings inspired by liqueurs from all over the world. Each flavouring is beautifully presented in 50 ml (1.7 US fl oz) bottles.
Contains no alcohol. This is a flavouring to be added to your own clear alcohol, as above.