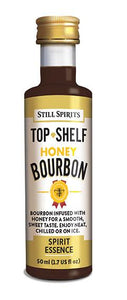 Honey Bourbon Spirit Flavouring by Top Shelf.
Makes a smooth honey style bourbon flavouring with a sweet taste.

Mixing Instructions

Shake well and add contents to 220 g (7.75 oz) of sugar and top up to 2.25 L (76 US fl oz) of 40% ABV distilled spirit or vodka. Stir to dissolve. Makes three 750 ml (25 US fl oz) bottles. Vary sugar to taste.

Ingredients

Flavourings, stabiliser (E422), colour (E150a).
Top Shelf Liqueurs is a range of flavourings inspired by liqueurs from all over the world. Each flavouring is beautifully presented in 50 ml (1.7 US fl oz) bottles.
Contains no alcohol. This is a flavouring to be added to your own clear alcohol, as above.