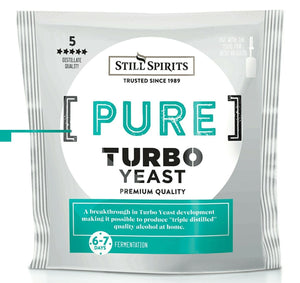 Still Spirits Pure Turbo Yeast (Urea Based) 110g 
Makes 15% ABV
Pure Turbo should be used where ultimate alcohol quality is of primary importance. 
This is a revolutionary breakthrough in Turbo Yeast development making it possible to produce Triple Distilled quality alcohol in the home - where allowed. 
Maximum Temperature = 24C (75F). Only use where cool air temperature (between 18C-24C) can be maintained. If you can't maintain this temperature, select a different Turbo Yeast.
Always use Turbo Carbon with Triple Distilled Turbo Yeast.