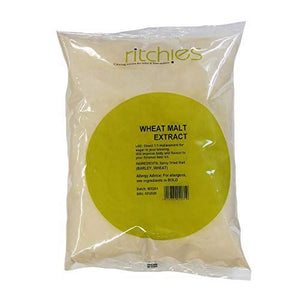 1kg bag of wheat spray dried malt extract by Ritchies.

Spraymalt will improve the quality of any beer kit when used in place of sugar. It will brew beers which are less 'dry', with more richness, body and improved head formation and retention.
Replace 50/50 with sugar - 1/2 kg sugar plus 1/2 kg Spraymalt. Use this in any beer kit recipe which suggests the addition of 1 kg of sugar. This recipe will help dramatically in improving the overall quality and flavour of your beer.
Alternatively, add one pack of Spraymalt to any standard recipe in addition to the 1 kg of sugar suggested with the beer kit. This will not only boost the malt flavour but also brew a stronger beer without destroying the beer's natural character. The beer brewed will be approximately 20% stronger than the standard recipe.