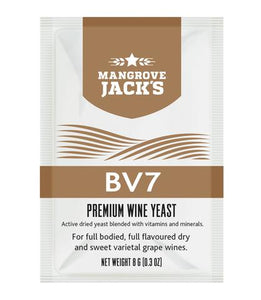 Mangrove Jack's Premium Wine Yeast BV7 (previously Vintners Harvest).
Mangrove Jack's Premium Wine Yeast BV7 is a white wine strain. It enhances the volume and intensity of your home brewed wine for a varied and full flavour.
This moderate fermenting yeast also promotes good body and structure. Yet BV7 will still preserve and respect the natural flavour and aroma characteristics of the grape. Ideal for full bodied, full flavoured dry and sweet varietal grape wines.

Suitable for Chardonnay, Semillon, Muscat, Pinot Gris and more.
Alcohol Tolerance: 14%
Weight
: approximately 8g.
Dosage: 19-25L.

Usage Directions: No rehydration required - add direct to grape must and stir well. For best results, ferment at 14 - 28°C (57 - 82°F).
Storage Recommendations: Store in a cool dry place.
Fast delivery.