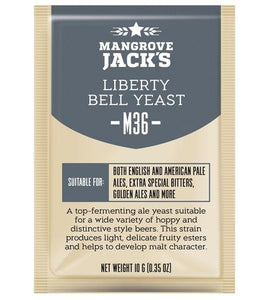 Mangrove Jack's Liberty Bell Yeast M36.
Mangrove Jack's Liberty Bell Yeast M36 is a top fermenting ale yeast which is suitable for a wide variety of hoppy and distinctive beers.

M36 produces light, delicate fruity esters and helps to develop malt character.
This top quality yeast is suitable for both English and American Pale Ales, Extra Special Bitters, Golden Ales and more.
Attenuation: High
Flocculation: High
Weight
: approximately 10g
Usage Directions: Sprinkle directly on up to 23 L (6 US Gal) of wort. For best results, ferment at 18-23 degrees C (64-73 degrees F).
Storage Recommendations: Store in the fridge.
Fast delivery.
Still in fermentation
As this yeast is in fermentation stage, I can't give a full review at this time. Also, as this is only my second ever batch of mead-I am experiencing with differences in yeast flavours - I am sure it is doing what it should be doing. Very easy to use and info is easy to understand.