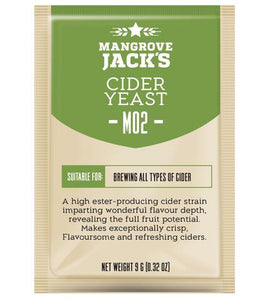 Mangrove Jack's Cider Yeast M02.
Mangrove Jack's Cider Yeast M02 is a high ester-producing cider yeast strain imparting wonderful flavour depth, revealing the full fruit potential.
Use M02 in your home brew to make exceptionally crisp and refreshing cider.

This top quality cider yeast is suitable for brewing all types of cider.
Attenuation: High
Flocculation: High
Weight: approximately 9g.

Usage Directions: Sprinkle contents directly on up to 23 L (6 US Gal) of juice. Ferment at 18-24 degrees C (64-75 degrees F) for best results.
Storage Recommendations: Store in the fridge.
If you are contemplating making cider from apples for the first time and want an idea of what it involves, check out our blog post:
A Beginner's Guide to Making Cider from Apples
.
Cider
Very good yeast working well
Started fermantation quickly
Mangrove Jack's Craft Series M02 Cider Yeast