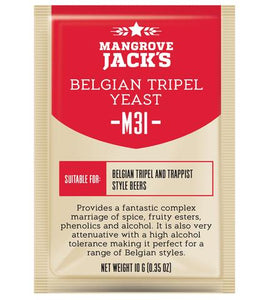 Mangrove Jack's Belgian Tripel Yeast M31.
Mangrove Jack's Belgian Tripel Yeast M31 provides a fantastic complex marriage of spice, fruity esters, phenolics and alcohol.
It is also very attenuative* with a high alcohol tolerance, making M31 yeast perfect for a range of Belgian styles.

Suitable for brewing Belgian Tripel and Trappist style beers.
Attenuation: Very High
Flocculation: Medium
Weight
: approximately 10g
Usage Directions: Sprinkle directly on up to 23 L (6 US Gal) of wort. For best results, ferment at 18-28 degrees C (64-82 degrees F).
Storage Recommendations: Store in the fridge.
Fast delivery.
*What is attenuation in brewing?
Attenuation is the percentage that measures the conversion of sugars into alcohol and carbon dioxide by the fermentation process. A more attenuated beer will generally be drier and more aloholic than a less attenuated beer made from the same wort. The percentage is calculated by comparing weight or specific gravity of the extract before and after fermentation.