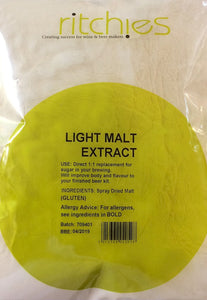 1kg bag of light spray dried malt extract by Ritchies.


This top quality light malt extract adds extra body, especially to lighter beers and lagers. Use as a direct replacement for sugar in your home brew beer recipes and kits.


Ritchies spraymalts use the finest premium malts, spray dried to a fine, soluble powder. Use this light malt extract in any beer kit recipe which suggests the addition of 1 kg of sugar (as a 1 to 1 replacement) to dramatically improve the overall quality and flavour of your beer.


Alternatively, add one pack of spray malt to any standard recipe in addition to the 1 kg of sugar suggested with the beer kit. This will boost your beer's flavour and strength without destroying its natural character. If you choose to do this, your beer when brewed will be approximately 20% stronger than the standard recipe.


Fast delivery always.
Great service and competitive prices
Bought a couple of things in a last minute rush and Andy was quick and helpful. Highly recommend.