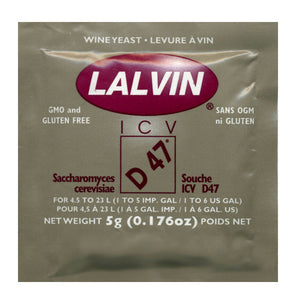 1 sachet of Lalvin ICV-D47 Yeast.

Lalvin ICV-D47 is a Côtes du Rhône isolate for the production of complex whites with citrus and floral notes, and for full-bodied, barrel fermented Chardonnay and other white varietals.  When left on lees, ripe, spicy aromas with tropical and citrus notes are developed.
Lalvin ICV-D47 is a high polysaccharide producer known to accentuate fruit characteristics and bring volume and complexity to white wines.
Lalvin ICV D-47 is a low-foaming quick fermenter that settles well, forming a compact lees at the end of fermentation. This strain tolerates fermentation temperatures ranging from 10° to 30°C (50° to 86°F) and enhances mouthfeel due to complex carbohydrates. Malolactic fermentation proceeds well in wine made with this yeast.

What can Lalvin ICV-D47 be used for?
This yeast strain is recommended for making wines from white varieties such as Chardonnay and Rosé. It is also an excellent choice for
making mead,
though be sure to supplement with yeast nutrients.
This sachet is enough to treat 4.5 gallons (23 litres) of wine.
Weight: 5g.