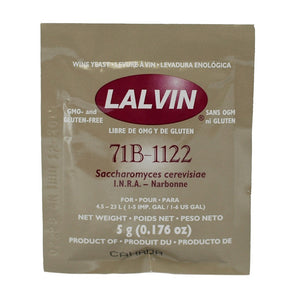 1 sachet of Lalvin 71B Nouveau Yeast.

Lalvin 71B is a wine yeast for nouveau-style wines. It was isolated by Pr. Maugenet's team at the INRA (National Agricultural Research Institute) in Narbonne, France.
Lalvin 71B is known for making blush and semi-sweet wines.
Simply rehydrate according to the instructions on the sachet, then stir into the must.
This sachet is enough to treat 5 gallons (23 litres) of wine.
Weight: 5g.