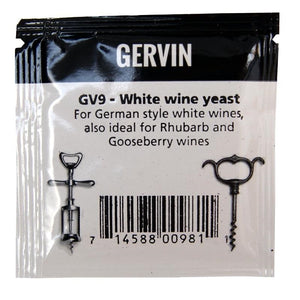 1 x Sachet of Gervin GV9 White Wine Yeast from Muntons.
Gervin GV9 White Wine Yeast is great for making German style white wines. Also ideal for Rhubarb, Gooseberry and Rosé wines.
Weight: 5g.
A 5g sachet of yeast is enough for up to 5 gallons of wine.

Ferments down to 10°C.
Gervin Yeasts
Gervin yeasts for beer and winemaking are produced by Muntons. These quality yeasts are used worldwide, by professional and amateur winemakers and beermakers. Gervin yeast will always produce a top quality result.
You will find a complete list of Gervin Yeasts and their uses on our blog.
Gervin GV9 White Wine Yeast (5g)
Purchase of Yeast
Very impressed with this business, purchased the yeast online, and arranged to collect from Horam, that afternoon, as needed with my wine making, and all went very well, thank you