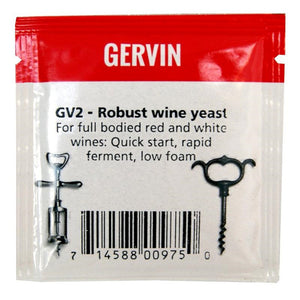 GV2 Robust Wine Yeast.
A sachet of Gervin GV2 Robust Wine Yeast from Muntons. You will recognise GV2 yeast as it is the one with the red label.
Ideal for making full bodied red and white wines. This yeast gets off to a quick start, with a rapid ferment and low foam.
Weight: 5g.
The 5g sachet of yeast is enough for a single fermentation of up to 5 gallons of wine.

Gervin Yeasts
Gervin yeasts for beer and winemaking are produced by Muntons. These quality yeasts are used worldwide, by professional and amateur winemakers and beermakers. Gervin yeast will always produce a top quality result.
You will find a complete list of Gervin Yeasts and their uses on our blog.
Froths away happily
Great wine yeast. We use this every year for our bramble wine with great results. Delivered promptly.