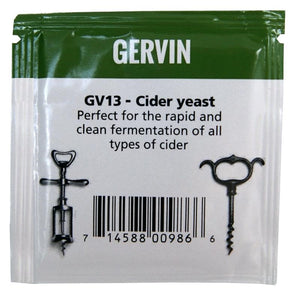 1 sachet of Gervin GV13 Cider Yeast from Muntons.
Gervin GV13 Cider Yeast is perfect for the rapid and clean fermentation of all types of cider.
Weight: 5g. Sufficient for treating 5 gallons of cider.

If you are contemplating making cider from apples for the first time and want an idea of what it involves, check out our blog post: A Beginner's Guide to Making Cider from Apples.
Gervin Yeasts
Gervin yeasts for beer and winemaking are produced by Muntons. These quality yeasts are used worldwide, by professional and amateur winemakers and beermakers. Gervin yeast will always produce a top quality result. You will find a 
complete list of Gervin Yeasts and their uses on our blog.