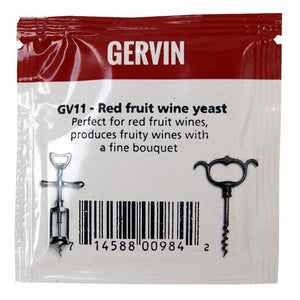 1 sachet of Gervin GV11 Red Fruit Wine Yeast from Muntons.
Gervin GV11 is great for red fruit wines. It produces fruity wines with a fine bouquet.
Weight: 5g.
A 5g sachet of yeast is enough for up to 5 gallons of wine.

Gervin Yeasts
Gervin yeasts for beer and winemaking are produced by Muntons. These quality yeasts are used worldwide, by professional and amateur winemakers and beermakers. Gervin yeast will always produce a top quality result.
You will find a complete list of Gervin Yeasts and their uses on our blog.
Efficacy & Accuracy
If you're like me, you prefer to buy your supplies with complete satisfaction, I ADVICE you not to waste your time with a store other than this one.