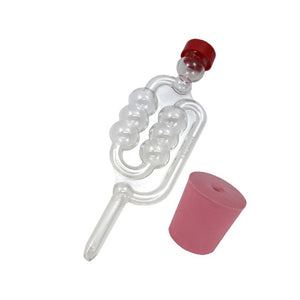 Fermentation Bubbler Airlock & Bored Rubber Bung by Almost Off Grid.

When you're making wine or beer in a demijohn, you need a fermentation bubbler airlock and bored rubber bung.
It lets CO2 out of your homebrew without letting contamination in.
Simply half-fill the bubbler with water and you're good to go.
The Fermentation Airlock is a standard size, so fits all fermenters.
The Rubber Bung has a bore hole for the bubbler, and it fits standard Glass Demijohns. (Looking for a cork bung instead?)
Bung Size: top 31mm, base 26mm
Making wine
very good service, and product exactly what we wanted
Airlock & Bored Rubber Bung
Great product
Good price, works as it should, easy to collect