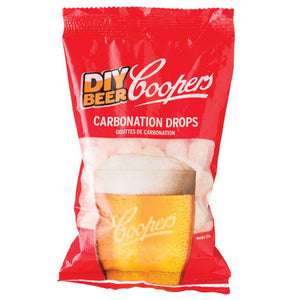 1 Pack of 80 Coopers Carbonation Drops.
Carbonation Drops are a convenient, no fuss alternative to priming sugar.
Used for priming beers for secondary fermentation, the advantages of using Carbonation Drops over priming sugar include:
- more accurate dosage
- no mess
- dissolves completely.
The dosage required is 1 drop per 345-375ml bottle or 2 drops per 740-750ml bottle. There are approximately 80 drops in each 250g pack.
Ingredients: sugar and glucose.
Please note: the date stamped on the bag is the day the drops were packed, rather than a use by date.