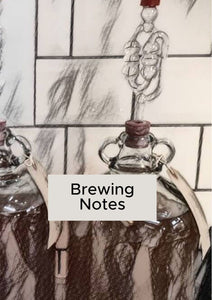 Our very own Almost Off Grid lined brewing notebook is perfect for keeping your brewing notes, records, tasting notes and recipes all in one place.
We all know that keeping brewing notes is important to improve our homemade beer, wine, cider and mead. You think you'll remember what you did but, in reality, we rarely do. This not only makes it difficult to avoid making the same mistakes next time but, if you create a really fabulous drink, without notes it can be very difficult to recreate it.
This brewing notebook is ideal for wine, beer, cider and mead makers.

It measures 17.0 x 24.3cm and has 100 lined pages, with book industry perfect binding. It is printed on high-quality white paper which minimises ink bleed-through and is suitable for pen or pencil.

Finished with a glossy wipe-clean cover.