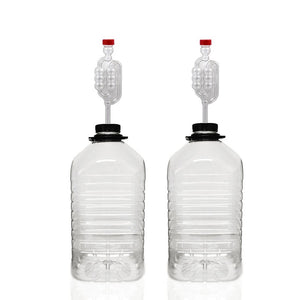 A pair of 5 litre PET Plastic Demijohns, complete with 2 bubbler airlocks to fit them.
Ideal for winemaking, these demijohns are made from food grade PET plastic. They both come supplied with a bored cap with a grommet, ready to fit the airlock. They also have a neck handle for easy transporting when they're empty. We don't recommend using the handle when they're full because of the weight.
PET Plastic Demijohns are a cheaper and lighter option than glass. They are also square, which makes them easier to store. To ensure the cap seals when you use the demijohn, simply snap off the tamper evident ring and screw the cap on tightly. Then fit the airlock into the hole.

Each pack contains:


2 PET Plastic Demijohns


2 plastic lids, bored with a hole


2 grommets to fit the hole


2 bubbler airlocks with caps.


Do not expose to hot water as your plastic demijohn will melt. Unsuitable for dishwashing.
One demijohn is large enough to accommodate the contents of a 6 bottle wine kit.
Excellent Products and Service
I cannot fault the products or the advice and support offered by Bev in particular. Thanks guys, now have red wine "blooping" happily.
The Perfect lightweight Demi John
Brilliant piece of equipment. If you need to transport your brews to friends etc, these are perfect. Lightweight, robust and with a great carrying handle, I'm slowly switching over to these. 10/10
Happy
Excellent website easy to follow. Prompt delivery service, 👍
Exactly what I want.
Hey ,If they're as good as glass ,Perfect.
Alternative to glass Demijohns
These plastic demijohns are a lot easier and safer to use. Highly recommended