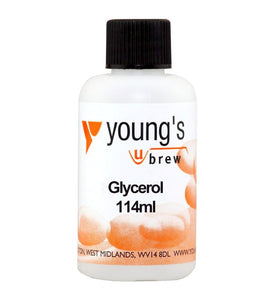 Young's Glycerol Maturing Agent.
A 114ml bottle of Young's Glycerol Maturing Agent for home brewing.
Glycerol is an additive to help wine mature. Glycerol can be used in home wine and liqueur making for a smooth finish to your brewed drinks.

How to use:
Add 5-25ml per gallon to your finished wine to aid maturity. As a general rule of thumb, white wines require less glycerol, red wines need more. Add slowly, to taste.
Shake well before use.
Excellent reliable service
Excellent website easy to use, quality products from a reputable company. Delivery was excellent, fast and well packaged.
Will happily buy in the future.
Thank you..