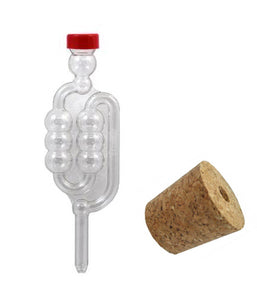 Fermentation Bubbler Airlock & Bored Cork Bung by Almost Off Grid.
When you're making wine or beer in a demijohn, you need a fermentation bubbler airlock and bung.
It lets CO2 out of your home brew without letting contamination in.
Simply half fill the bubbler with water and you're ready to go.
The Fermentation Airlock is a standard size, so fits all fermenters.
The cork  Bung has a bore hole in it for the bubbler, and fits Standard Glass Demijohns.  
Bung Size: top 31mm, base 26mm
Superfast shipping on everything, always!
Perfect Airlocks and lovely cork bungs!
Great product, for my demijohns - got 10 gallons of dandelion wine bubbling away nicely!